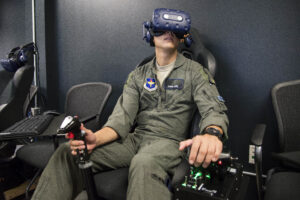 6.1.  Overview.  The entire AFRC UFT pipeline is managed by the 340th Flying Training Group (340 FTG) located at Randolph AFB, Texas.  The 340 FTG manages student progression through training, ensuring AFRC UFT students are on continuous orders from their accession into AFR through the completion of their assigned-aircraft training.  If you are selected on an AFRC UFT Board, you will be contacted by the 340 FTG gains team and they will confirm when you are available for training.  The date you actually begin training will depend on how long it takes your flight physical to be certified (approved) and subsequently gained to 340 FTG.   Please work diligently with your recruiter/unit on this process.  Once you are gained, your training events will scheduled for you depending upon your training pipeline requirements.  See below for a brief description of various training events, in an approximate order of completion. 
6.2.  Officer Training School (OTS).  If you are not already a commissioned officer in the military, you will attend OTS at Maxwell AFB, Alabama.  This rigorous, 9.5-week program is organized into four phases designed to challenge you both mentally and physically.  Throughout the course of the program, you will develop the skills and confidence needed to lead the men and women of the United States Air Force as an officer.  For more information about OTS, click here.
6.3.  Initial Flying Training (IFT).  If you are selected for pilot training and you do not already have a private pilot license (or it has been greater than 5 years since your last flight), you will attend  IFT in Pueblo, Colorado.  IFT is designed to gauge aptitude for flight, introduce you to the rigors of military aviation, and prepare you for success in Air Force flying training with flight training in the Diamond DA20 Katana.  For more information about IFT, click here.
6.4.  Survival, Evasion, Resistance and Escape (SERE).  All pilot, CSO, and ABM selectees will complete SERE training, which includes multiple courses located at Fairchild AFB in Washington, and Naval Air Station Pensacola in Florida.  These courses are designed to teach students the fundamentals of survival in a variety of environments, evasion from enemy forces, resistance and conduct after capture, and escape from captivity.  They can be completed at any time throughout the UFT training pipeline.
6.5.  Undergraduate Flying Training (UFT).  UFT teaches students the basics of military flying to earn Air Force wings.  Depending on what rated position you have been selected for, you will attend one of 4 different types of UFT.  See below for information.
6.5.1.  Undergraduate Pilot Training (UPT).  Air Force pilot candidates earn their wings during UPT, which consists of academic courses and flight training in the T-6A Texan II.  Upon graduation, students continue their training in either the T-1A Jayhawk, for students who will be assigned to transport or tanker aircraft, or the T-38C Talon, for students assigned to fighter or bomber aircraft.  AFRC pilot candidates attend UPT at Columbus AFB in Columbus, Mississippi, at Laughlin AFB in Del Rio, Texas, or at Vance AFB in Enid, Oklahoma.
6.5.2.  Undergraduate CSO Training (UCT).  UCT trains Air Force Combat Systems Officers at Naval Air Station Pensacola, Florida.  UCT utilizes the T-6A Texan II for the primary phase of training with follow-on training in the T-1A Jayhawk and T-25 Simulator for Electronic Combat.  
6.5.3.  Undergraduate RPA Training (URT).  URT trains Air Force Remotely Piloted Aircraft pilots at Randolph AFB, Texas.  URT consists of initial flight training, instrument qualification, and RPA fundamentals.
6.5.4.  Undergraduate ABM Training (UABMT).  UABMT trains Air Force Air battle Managers at Tyndall AFB, Florida.
6.6.  Introduction to Fighter Fundamentals (IFF).  Upon graduation from UPT or UCT, if you are assigned a fighter or bomber aircraft, you will enroll in IFF where you will learn the basics of fighter aircraft maneuvering and tactics in the T-38 Talon.  
6.7.  Formal Training Unit (FTU).  The FTU is where Air Force pilots, CSOs, ABMs, and RPA pilots learn to fly and operate their assigned aircraft.  Locations and durations vary depending on the type of aircraft.
6.8.  Mission Training (MT).  After you are qualified in your assigned aircraft at the FTU, you will exit the UFT pipeline and return to your sponsoring unit where you will learn your specific operational mission set, known as MT.  Depending on your aircraft, MT will take anywhere from a few months to multiple years.  At the completion of your MT you will be a fully-qualified rated officer ready to deploy anywhere in the world. 
6.9.  Operational Flying.  As an operational rated officer in the AFR, you will have the opportunity to serve in a variety of statuses, both full-time and part-time, depending on availability and what best meets your needs.  See below for a brief description of each.
6.9.1.  Active Guard/Reserve (AGR). A full-time Reservist serving on active duty orders.
6.9.2.  Air Reserve Technician (ART).  A full-time Reservist serving in a dual-status position.  An ART works as a civilian employee (Part A) for a typical 40-hour work week, and as a military member (Part B) for typically one weekend a month and two weeks a year.  The Office of Personnel Management (OPM) manages the guidance, called Aircrew Qualification Standards, that determines how many hours are required to be eligible for the different pay scales within the civil service pay structure.
6.9.3.  Traditional Reserve (TR).  A Reservist serving in a traditional part-time status (one weekend per month and two weeks per year).
6.9.4.  Individual Reserve (IR).  A part-time Reservist serving as a backfill to an active duty position.  An IMA coordinates a flexible schedule with their assigned unit.